If you live in New York and you have money to burn (and who doesn't!), then the Hamptons are a great summer weekend getaway. If you're a bored billionaire sitting in your Central Park West apartment and you're looking to rent an obscenely expensive house for the summer that feels shockingly modest considering the monthly bill, then I would highly recommend the Hamptons.
Of course when you tire of your personal chef and can't bare the thought of another lobster, the Hamptons does have some fine dining establishments that serve cuisine a la burger.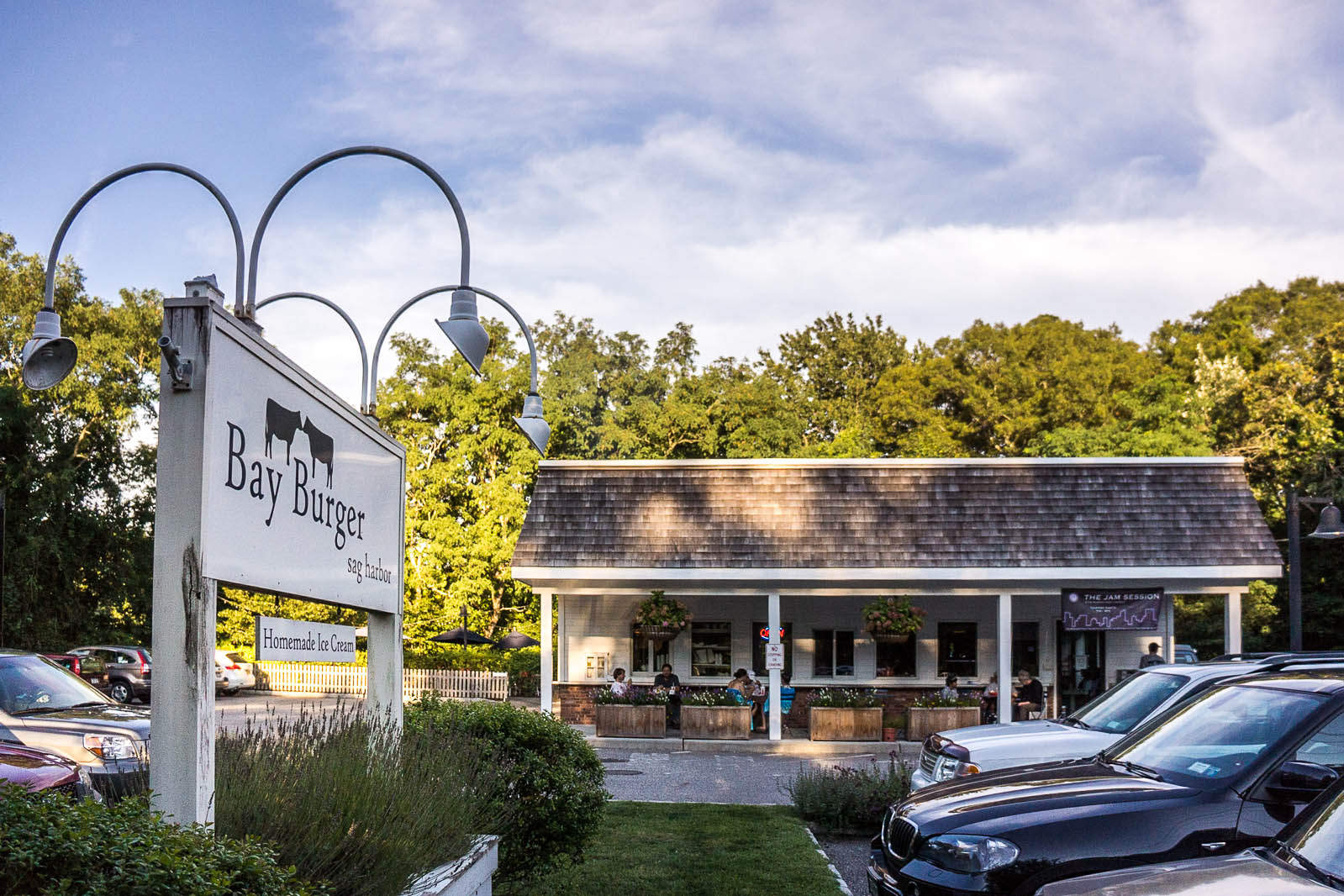 Sag Harbor is home to the roadside hut that is Bay Burger. After ordering at the counter, you can sit down inside the bright and airy shop, or make your way outside to the green metal tables if the weather is nice (and what self-respecting billionaire would be in the Hamptons when the weather was anything less than perfect).
Most important is the burger. Saving you an expensive helicopter ride back to the city, Bay Burger serves up an excellent burger.
After a series of Japanese burgers, I have to admit that the best American burger joints just get the texture…well, perfect. The seasoning here is very mild – mostly you just taste the meat of the burger and that's a fine thing. Ketchup, mustard, tomato, onion and lettuce – the five food groups are all represented. The mustard is dijon, though, and it's a bit overpowering. Despite signs proclaiming that their buns are fresh made, they leave a bit to be desired. It's a bit mealy and dense for my taste. I like the more airy brioche style buns where the ratio leans toward meat, not bread.
Overall this is a high quality burger, although I would say the flavors don't pull together quite as well as a Shake Shack burger or something truly superlative. That said, I could happily eat this on a regular basis when summering with my billionaire friends and unicorns (I'm assuming my fictional billionaire friends own unicorns – because why wouldn't they?).
The fries were decent, but a bit under-seasoned or under-salted. They do serve some tater tots that have a great breakfast style hash seasoning – go for those. You can get fries every day. (Which of course you don't do because you're eating salads and heart healthy cold water fish. Or warm water fish. Or whichever are the fishy things you're supposed to eat, and not the ones that the articles posted on Facebook tell you will kill you in 8-10 minutes because of mercury poisoning and radiation).
Ummm, oh right – the burger place. If you do find yourself in the Hamptons and you're tired of fancy dinners and unicorn polo, go hang out with the more common folk (in the Hamptons, I'm assuming they're struggling millionaires) and grab a burger at Bay Burger.
Clearly I need to get back to Tokyo.
Ambience 7/10, Burger 8/10, Fries 6.5/10 (Tots 7.5/10)