Daikanyama is one of my favorite areas in all of Tokyo. A friend of mine recently asked me if Daikanyama was a good shopping area. "Yes, definitely" "Oh, cool", she replied. "Some good deals?" "No, definitely not."
Besides a slew of great shopping, cute cafes and fancy restaurants – Daikanyama also boasts what is probably the coolest bookstore in the world – the new Tsutaya Daikanyama T-Site Complex. It has an amazing bookstore, DVD rentals, a lounge constructed of books, a camera store with everything from Leicas to Holgas, etc.
So when I wanted to get an apartment in Tokyo, Daikanyama was near the top of the list. The only problems I could see were that 1) I don't own a small dog (I believe everyone in Daikanyama is required to own a small dog). And 2) it is on one of the more inconvenient train lines.
So while you're spending an inordinate amount of time waiting for the (probably delayed) Toyoko Line, you might spot, as I did, the Sasa Grill Burger Club perched on top of the station.
Take a few lefts out of the station and you'll find this rather adorable 1960's style American burger joint stationed at the end of a cul-de-sac. Once inside, the also adorable menu shows the three sizes of burgers – S 80g, M 100g, and L 200g. For the metrically challenged, the 200g is almost 1/2 lb, the 100g is almost 1/4 lb, and the 80g is for dainty burger eaters who aren't really serious about burgers and probably shouldn't be reading an obsessive blog about burgers.
The burgers have the slightest hint of spice (not spicy, but almost marinated) and they're perfectly moist and tender. The fries are really just a distraction, not measuring up to the wonderful burger, and the plate looks a little bare. Don't let the lack of flourishes in plating fool you. This is one tasty burger.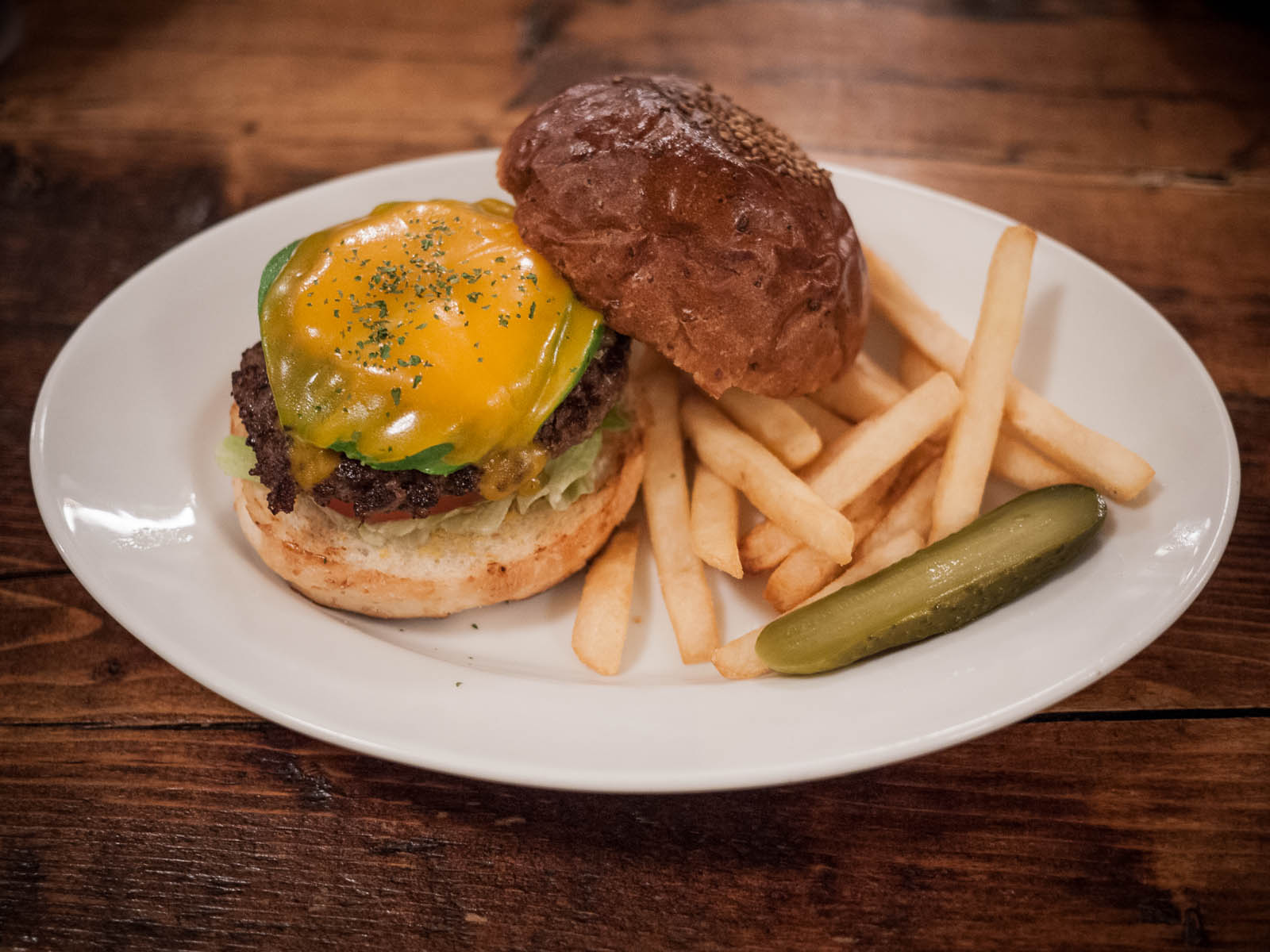 I could wax philosophical on the satisfaction in a perfect burger, or compose poetry on the anticipation of a meal at Sasa. Suffice to say that if you like burgers, this is definitely worth a ride on the Toyoko Line. (And if you don't like burgers, boy have you come to the wrong place).
Ambience 7.5/10, Burger 8/10, Fries 7/10
http://goo.gl/maps/l1y0W 11am-10pm