Tucked away on a side street across from Yoyogi park is the Arms Park Side Burger Shop. A little slice of Americana near the Yoyogi-koen train station.
For approximately $10, you get a fine looking (and tasting) cheeseburger. This is not a fancy gourmet burger with blue cheese and caramelized stuff on it. It's a simple burger with lettuce, tomato, onion, mustard, relish and mayonnaise (which I generally think has no business on a burger, but to each their own). This is a burger that hearkens back to a simpler time – a time when Bobby Vee and Elvis took turns on the hi-fi system (as they do at Arms).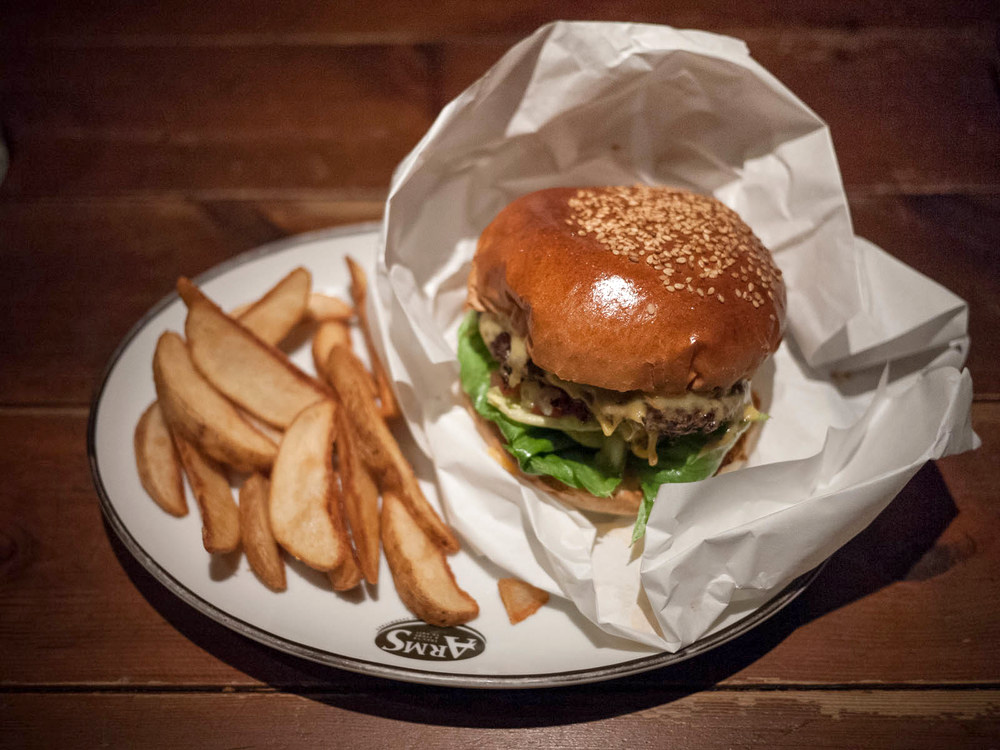 I've eaten here several times and the fries are a bit variable, ranging from good to just okay. They never quite make it to great, and they occasionally commit the cardinal sin of undercooking their fries – not yet a capital crime, but I'm still hoping. How many times in my life have I said, "Hey, these fries are way too crispy!" Almost as often as I've said, "Wait, maybe pizza at 2am is a bad idea."
But the taste and texture of the burger are both excellent – I'd say 8/10. Nicely seasoned without being overpowering, the cheeseburger and avocado burger are equally good. Lately I've started ordering the avocado burger (strangely popular in 2013 Tokyo).
The bun is nice and squishy (and squishy is a wonderful quality in a hamburger bun and not much else), and the ratio is good although I wouldn't mind a bit less bun. I do have a tendency to pick apart buns or order 'protein style', so you might want to ignore me on this one. Then again, Shake Shack has the perfect bun to burger ratio, so you'd have to ignore me and Danny Meyer.
This is an excellent burger and five years ago might've been the best burger shop in Tokyo, but nowadays a new burger spot opens every 12 minutes, so we'll just have to find out by eating a lot of burgers. For science.
Ambience – 9/10, Burger 8/10, Fries 7/10
http://goo.gl/maps/TgmVH 11am-10:30pm (closed Mondays)