A long time ago, there was a burger joint in Los Angeles called Mo Better Meatty Meat Burgers. Besides being an enjoyable mouthful to say (try it now – I'll wait), they also produced a pretty fantastic burger in a slightly run down looking structure at Fairfax and Pico. An even longer time ago, that same burger joint was located on Melrose back when Melrose actually felt kinda cool. (Yes, this was the mid 90's).
Alas, Mo Better Meatty Meat Burgers closed down. There were complaints – it was slow, it wasn't in the nicest location, it was kinda expensive, etc. Still, I missed it.
So I was excited to see that Mo Better Meatty Meat Burgers had reopened on LaBrea, although now it had been truncated to Mo Better Burgers. I had been burger hunting in Asia for months and had been unable to visit, but recently I met up with photographer (and Instagrammer extraordinaire) Pete Halvorsen for lunch at their new location.
Let's get a few things out of the way. It's in a weird mini-mall. I've lived in this general area for years and it's always been a weird mini-mall. The patron saint of mini-malls must have cursed it. Still, the interior of the shop is pretty comfy, so I can't deduct too much for the location. At least on the day I went the parking lot seemed pretty open, which slightly improved my disposition as I was truly feeling nostalgic for the wonderful train system in Tokyo.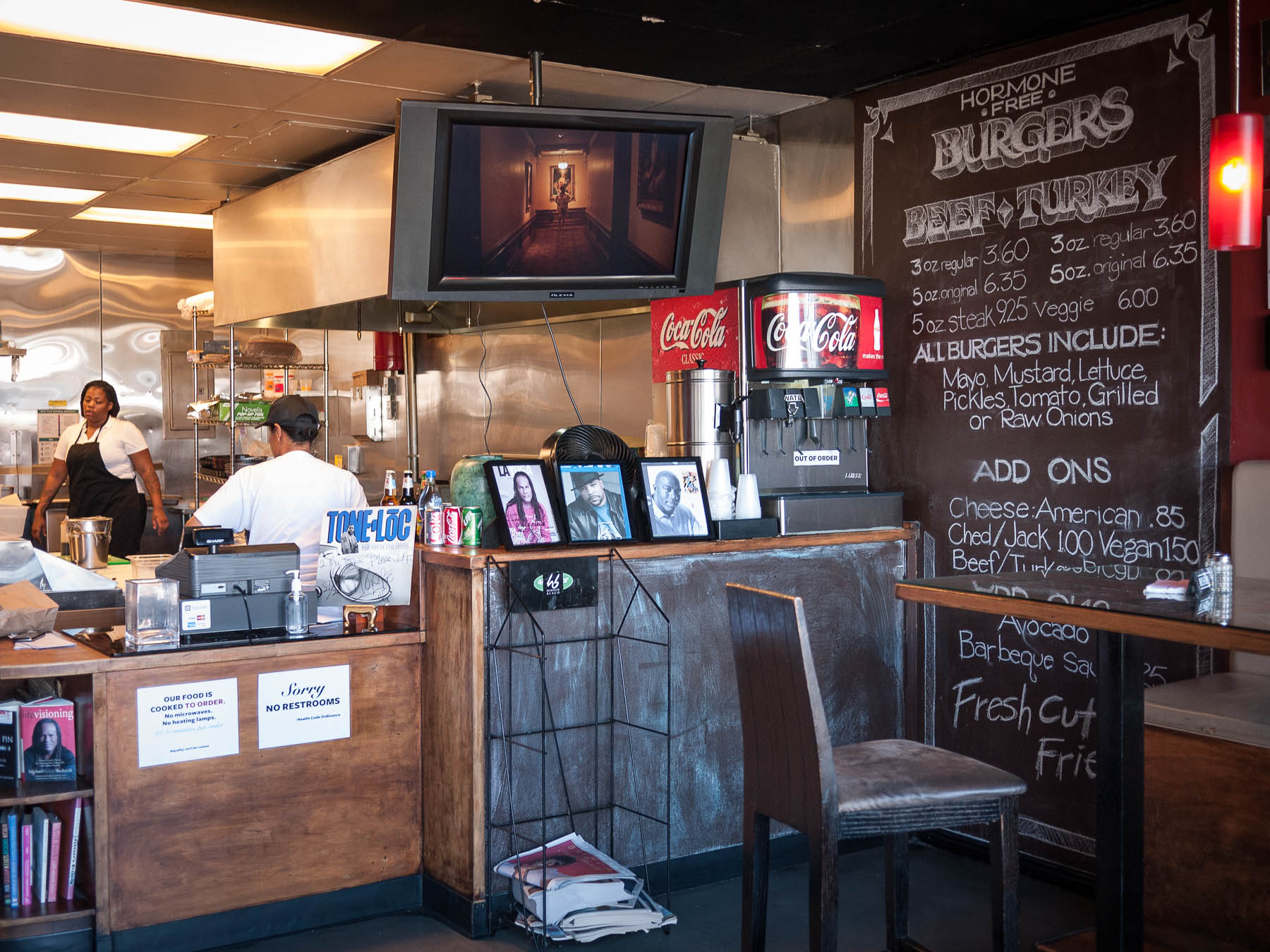 Similar to the old incarnation, this is not fast food. It's gonna take you 15-20 minutes to get your burger on a quick day. I think it might've taken us longer, but it wasn't uncomfortably long as we knew what to expect (and they warned us).
Now the important part. It's very similar (in a good way) to the old Mo Better Meatty Meat Burger, with a perfect char on the 5oz patty and simple tasty toppings atop a nicely squishy bun. Shredded lettuce, raw or grilled onions, tomato, mayo, etc. I haven't been to the old shop in about ten years, but I  remember the beef seasoning to be stronger. Maybe when they removed the Meatty Meat from the name, they removed a bit of the heavy handed seasoning. I actually preferred the old seasoning, but this was still a really good burger; I'm quibbling based on a ten year old comparison to a cult favorite. Of course my memory is always reliable, so I'm sure I remember it perfectly.
Compared to Japanese burgers, there's a common difference. Good American shops get the beef cuts and grind absolutely perfect. The meat texture here couldn't be any better. Yet I feel that the Japanese shops actually do a better job with condiments, toppings, sauces and sometimes seasonings (although I'd say seasoning is a tie – except for Shake Shack which kills it with their seasoning – all hail the king). The fries were similar to the old shop, although I wouldn't mind them a bit crunchier (I had the same complaint ten years ago).
The menu is quite simple (offering a beef burger, steak burger and turkey burger). It does not have tacos on it. Why is this notable? Because they secretly serve tacos as well, although I haven't tried them. When Pete and I were standing in the parking lot afterwards, the shopkeeper (maybe the owner?) came out to give us coupons for free tacos on our next visit, so I will eventually report back. Any self respecting Los Angeles establishment has to have a secret menu, secret entrance, secret cult affiliation. Just something secret.
This is a good burger on a stretch of LaBrea without too many good burgers (Umami Burger closed this location – but I always think they're overly heavy anyways). If you want a taste of the old Mo Better Meatty Meat Burger, this satisfies the urge pretty nicely.
Ambience 7.5/10, Burger 8.5/10, Fries 7.5/10